macrumors G4
Original poster
Jun 27, 2007
11,159
15,116
MAJOR EDIT:
I have conducted my own test now. The setup:
iPad Pro 2018 12.9"
USB-C to USB-A adapter cable
An old, cheap USB-A 3.0 four port hub
Sony UHS-II USB-A SD card adapter
Sandisk Extreme Pro 64GB 300MB/s card exFAT
G-Drive 5400 RPM 2TB External Drive exFAT
Samsung T5 2TB SSD exFAT
I was able to get the card, spinning drive, and SSD to mount! I was able to successfully copy all 50 42MP RAW files from the SD card to the G-Drive, but haven't yet tested the SSD because I was making backups of it before plugging it into a beta system when I recorded the video. And yes, this was all running off of bus power, as pictured below! Here is a photo of the setup (it's not pretty, but it works, and I have a cleaner docking solution coming in the mail from Hyper):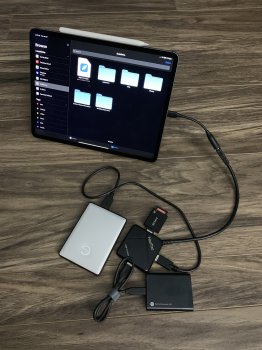 Here is a video showing the copy test. This was going to a portable spinning drive, so it wasn't very fast. I did the math it was only going about 15MB/s, which seems pretty slow since the spinning drive was mostly empty.
http://aduke.co/s8hZ08
I later tried with my Samsung T5, and it was acting weird. I had tried to do the same test with all three plugged in, but it got stuck going SUPER slow (like the first photo was probably 4-5 minutes) and it eventually looked like it copied that photo over, but there didn't seem to be any way to cancel the copy in-progress for the rest of the files. I had to delete the test folder I was copying into and when I recreated the test folder and went into it, it was still trying to copy all the files in there! Super weird. So I deleted the folder again and made a folder called "Test 2" and that seemed to clear out the issue at hand. So I unplugged everything and remounted and tried again in the Test 2 folder and tried to just move one photo over. It ended up making a Zero KB file and then the actual 43MB file was spinning next to it for several minutes and then started slowly loading like the first time. The loading circle got like maybe around a quarter of the way around (I wasn't watching closely) and then it suddenly popped in and got rid of the empty file and the thumbnail for the RAW file loaded. I tried another file and it was instantaneous! So I deleted both files and then dragged them back over from the SD card and it did the Zero KB file thing and had both of them grayed out with the spinning indicator for a bit longer (maybe 6-7 minutes) and one photo popped in and then the other one slowly loaded in about 3 minutes later. I then tried to copy over two more and it did the same thing again, but at first the two photos I already had in there changed to Zero KB as well. I think it's just buggy with SSDs? G-Drive worked perfectly, though, albeit slower. I then tried dragging in another single photo, and it copied very quickly. Then another, and it was also quick. Then another, and it went very slowly. Just sounds like standard buggy beta fare. I tried the SSD on different ports on my hub and it didn't matter.
I tried copying all those RAW photos from the SD card to the iPad and did the math and it transferred at 108MB/s. I tried copying the photos from the iPad to the SSD and it was still really slow for one photo, but it was faster than before taking about a minute to transfer. I tried copying from the SSD to the iPad and it was really fast, about 167MB/s. I tried copying from the SSD to the SD Card and it was slow, but not brutally slow like it was transferring to it, just really slow at about 8MB/s. Keep in mind this was a 500-550MB/s SSD transferring to a UHS-II USB 3.0 SD card reader with a 300MB/s professional card in it. Hopefully this improves as the beta wears on!
I should also add that I've been testing this for several hours with the display on and at least two, sometimes three drives plugged in, including a mechanical one that must use more power. The battery has dropped from around 75% to 25% during this time of around 3 hours (I didn't pay close attention to the times). This is actually better than I expected, because any time I use externals with my MBP it seems to drain it pretty quickly, and my iPad hasn't gone to sleep this whole time.
So far I'm impressed, even with the issues, because both drives and the SD reader can all be powered on the same bus using my janky setup and copy files across. I think the issues will be ironed out over the summer. Maybe some of the issues are to do with my old USB 3.0 hub, or the USB-C to USB-A adapter, and the lack of testing of various setups thus far. I have a HyperDrive hub for iPad Pro 2018 coming in the mail, so I will do more testing with that, along with further tests as the beta moves along.
Oh, and as I was finishing this up, I got a "Content Unavailable" over on my iPad display for both sides of the Files app. Then at one point it flickered to say something about it couldn't connect to the server. I think it's just another bit of buggy behavior. I haven't tested it with SMB yet.
I hope this was useful for someone, as I spent many hours testing this out and putting this together.
-------------------------------------
Original Post:
Has anyone tested the following scenario on iPadOS using a 2018 iPad Pro with USB-C? I haven't installed it yet, but might around the third beta if it seems stable enough before I go on vacation. I'm wanting to do the following:
USB-C on iPad to USB-C hub (non-powered)
Samsung T5 SSD plugged into one port
Apple SD Card Adapter USB-C (UHS-II speed)
Transfer Sony a7R III RAW photos directly from 64GB UHS-II Sandisk and Sony SD Cards (~300MB/s) to Samsung T5 SSD (~500MB/s) without plugging it into the wall for power. I'll also be transferring 4K HDR video from a Sandisk 128GB UHS-I SD Card (~150MB/s).
Does the iPad Pro 12.9" (or even the 11") support this? Has anyone tested? What about with an adapter that has a built-in SD slot (most I've seen are UHS-I speed) and USB port, if that uses less power because it's slower? If not, does this work ok with a powered hub?
I'm hoping I can leave my bulky MBP behind which I will basically just use to transfer files.
Thanks!
Last edited: