macrumors 68040
Original poster
Depending on the computer used and the procedure employed the RESOLVED in the title might be a bit too optimistic...or just too early judging by all the following posts, with all the credits very well deserved by the creators of these wonderful tools! Thank you very much TMRJIJ!!!!!​
***************************************************
Good to remember if you use a tool like MCPF to install an "unsupported" newer OSX.
Keep a bootable clone of the original "supported" OSX of that computer with its original unhacked Recovery Partition, for instance in a USB key or an external drive. The "special" Recovery Partition ("OSX Hackers") created by the hacking tool in Mavericks can be used for re-hacking (if needed) or for doing again a "clean install' of the newer hacked system. However, it doesn't give you access to a Time Machine recovery as found in a normal Recovery Partition.
(Sometimes Time Machine refuses to start and work normally from inside the hacked new OSX).
The original kept "old" Recovery Partition will allow you to boot from it and restore the newer system (if needed) from a Time Machine backup of it.
************************************************
A remark for people trying without success to install Yosemite through MCPF 1.0.1
I tried it for several months without success. Mavericks worked in my MB 4.1, early 2008, Yosemite not.
Then one day I run this tool choosing Yosemite and directing it to an external USB stick as the installer, and afterward repeated the Yosemite choice but this time pointing to the inner drive of my MB 4.1, leaving the USB stick installer plugged in. A double procedure with MCPF 1.0.1.
For unknown reasons to me, a reboot allowed me suddenly to begin to install Yosemite.
I don't know if it might work for other users or for other unsupported macs but in despair maybe you give this double procedure a try.
I later succeeded to upgrade to the last version of Yosemite 10.10.5 and to install a security update.
However I had to use each time the AppleHDA kext of the OSX Hackers kext package to have again recognized the built-in microphone and speakers, "disappeared" after an update.
I don't have unfortunately the patched special Hackers recovery partition in case I need to re-hack it, as I had with Mavericks, so I keep bootable clones for safety.
****************************************************
A suggestion: MPEG Streamclip, a free, no further updated application, plays some"avi" movies in a hacked Yosemite, while VLC and other players only give the soundtrack. If this suggested player doesn't work with a certain "avi", the HD player, part of the P2P application "Vuze" always does in my experience.
************************************************
Latest Update: March 31, 2020, by TMRJIJ - macOS Extractor 1.45 and updated instructions
Latest Update: March 22, 2019, by TMRJIJ - small adjustments and updated links.
Latest Update: June 22, 2017, by TMRJIJ - small adjustments and updated links.
Warning: MacPostFactor has been depreciated. No Further Developments will be made for now.
OS X Yosemite on Unsupported Macs
OS X Hackers
macOS Extractor and MacPostFactor are apps that guide you through patching and installing macOS Sierra (10.12), OS X El Capitan (10.11), Yosemite (10.10), Mavericks(10.9), or Mountain Lion (10.8) on your older Mac. This thread focuses on OS X Yosemite.
MacPostFactor works for Mountain Lion, Mavericks, and Yosemite, and El Capitan (certain Models).
Please note that older GPU (GMA 950, X3100, X1600, X1300, X1900, 7300gt, etc.) Graphics Acceleration on Mavericks and Yosemite is not supported yet but this thread consists of many graphical workarounds.
Installing these models may cause them to have graphical issues as stated in these pages. Kexts are provided to help a little bit.
macOS Extractor is somewhat for more advanced users and should only be used as an alternative to MacPostFactor. This thread consists of members prominent in these patches that can help you solve your issues. Please do not hesitate to post if you have any questions.
​
Apple History
OS X 10.6 Snow Leopard was the first OS X version with optional support for a 64-bit kernel, allowing booting either with a 32-bit or 64-bit kernel. However, Apple did not support booting the 64-bit kernel in Macs that shipped with EFI32 firmware, even if they had 64-bit processors capable of running the 64-bit kernel. When Apple dropped the 32-bit kernel entirely from OS X, starting with OS X 10.8 Mountain Lion, EFI32 Macs no longer had an Apple-supported mechanism to boot newer OS X versions.
Fortunately, we have found a workaround for this version of OS X. Here we provide guides in Post 1 and 2 and support for Installing OS X Yosemite on your Unsupported Mac.
This first post is usually updated with recently summarized information, updates, and more solutions.
For those who have 2006/2007 Mac Pros, you may be best suited to using
Mr. Zarniwoop's Thread here
. The MCPF and macOSE projects are not affiliated with them. We will not contact them either. Some confrontation has occurred both publicly and privately in MacRumors, the site, and other forms of communications and we don't want anything to do with them and their Mac Models. It's simple, don't ask Mac Pro questions to people who don't have Mac Pros.
Your post will be requested to be moved to their thread.
Mac Pro (1,1/2,1) Yosemite Guide:
Hennesie2000's Guide here
.
Prerequisites
Tested Macs listed below. Here are the minimum requirements:
- Running 10.7 Lion
- At least 2GB of RAM.
- A copy of Yosemite in Applications Folder (Recommended from the Mac App Store)
- 15 GB of free space from USB or HDD Partition to serve as your Installation Drive.
-MacBook2,x
-MacBook3,x
-MacBook4,x
-MacBookPro2,x
-MacBookAir1,1
-MacMini1,x (C2D upgraded)
-MacMini2,x
-iMac4,x (C2D can be upgraded)
-iMac5,x (post #846 might help)
We DON'T assist with Hackintosh. All private messages/emails involving installing OS X on non-Apple hardware will be redirected to another support team.
Guide to Installing OS X Yosemite on Unsupported Macs
Method 1 - macOS Extractor


​
ANY HARM OR DAMAGE CAUSED BY THIS GUIDE HAPPENED UNDER YOUR OWN RESPONSIBILITY!
IF YOU HAVE ANY REGRETS ABOUT DOING THIS TO YOUR MAC, YOU PROBABLY SHOULDN'T DO IT. IF YOU ARE QUESTIONING WHETHER IT IS WORTH IT, YOU SHOULD DEFINITELY NOT TRY THIS.
PLEASE
READ
THIS GUIDE BEFORE ASKING QUESTIONS? WE HAVE TOO MANY EMAILS AND SKYPE MESSAGES TO ANSWER AND CAN'T BABY YOU THROUGH THIS ONE STEP AT A TIME. IF YOU CAN'T FIGURE YOUR WAY AROUND OS X, YOU SHOULDN'T BE DOING THIS.
Be sure to have root privileges (administrator password) as OS X will prompt you for this on some stage.
A: Preparing The Installation Drive
Make a BACKUP of your system if you can.
macOS Extractor has generally everything you need to patch OS X (There are also numerous other sources that can help).
Get an OS X Yosemite Installer app (Recommended from the Mac App Store)
Make sure your Mac meets the Requirements above
A USB or Secondary Partition to put the patched Installer (A Installation Drive for reference)
B: Start Patching
Install macOS Extractor.
A new drive might appear on your Desktop called 'OS X Install ESD'. Don't worry about that. The AutoPatch Tool will unmount that when it's done.
Go to Applications/OS X Hackers Patch Files and run the AutoPatch package.
Select the disk or partition that you're fine using an installer drive that you want as the installer. WARNING: DO NOT SELECT YOUR CURRENT PARTITION (i.e Macintosh HD)
C: Installation
Reboot your Mac holding option (alt) key.
Select the Installation drive "OS X Base System" (and press enter)
If the Installer Drive boots you back to the main partition, try blessing the drive from your terminal app:


Code:

sudo bless --folder /Volumes/OS\ X\ Base\ System --file /Volumes/OS\ X\ Base\ System/System/Library/CoreServices/boot.efi --setBoot

When booted click install/continue until you reach the disk selection menu, select the partition you wish to install Yosemite on (probably Macintosh HD) if you are sure about it, else select another empty drive (at least 15GB for testing/bigger if it should be a secondary system)
D: If Reboot Fails
(If the Mac does not reboot to the Yosemite desktop boot to the installation drive again and perform the following.
Boot back into the Yosemite Install Partition
open the terminal at the top menu bar or boot into single-user mode (Hold Command -S immediately after turning on)
enter:
Code:
sudo rm /Volumes/[Main Drive Name]/System/Library/CoreServices/PlatformSupport.plist
E: Install these 64-bit Kexts from the Kexts folder from OS X Extractor
(These will better the graphics by a little but you will not have Graphics Acceleration. Still in beta so they may not work well)
Navigate in your Finder and go to the 'OS X Hackers Patch Files' folder in your Applications Folder
Open the 'Kexts' Folder
Choose your Graphics Card Kext Installer and launch it.
Select the Partition or Hard Drive that you are currently using the patched OS X. Install it. (Admin privileges required)
Restart your Mac
IF your Macbook can't wake up from sleep:
Because of the lack of working Graphics Acceleration. Your MacBook may not be able to wake from a display sleep. The Kext Installer includes a NoSleep Extension and Brightness App.
CONGRATULATIONS!!!
Method 2 - MacPostFactor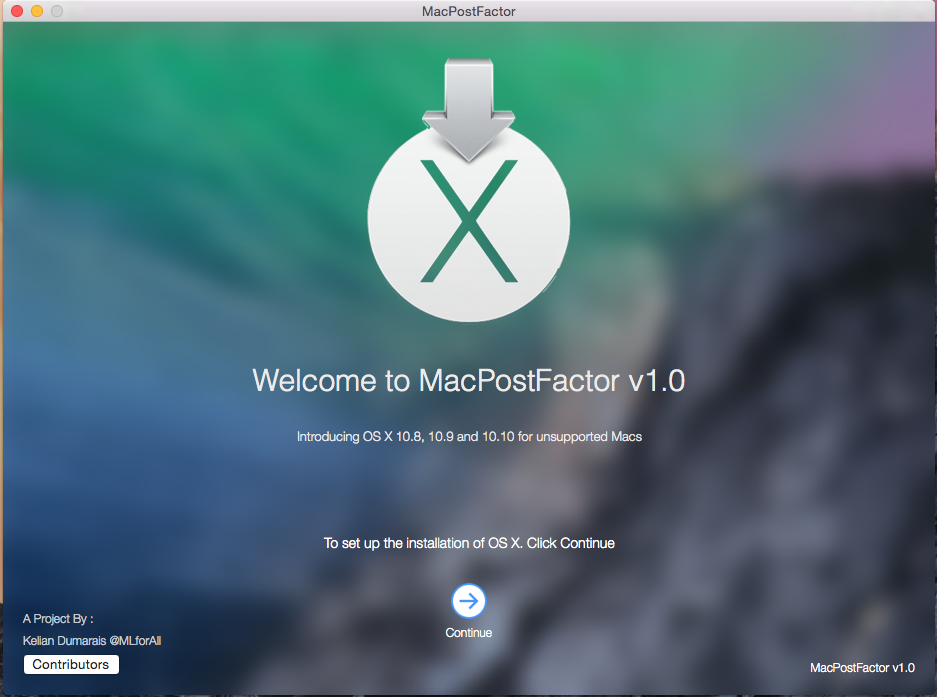 ​
IMPORTANT NOTES

Install MacPostFactor at your own risk. We are not liable if your computer explodes, fail to wake you up for work, lose important files, pictures, porn or simply ceased to work. Always backup your existing installation before installing MacPostFactor or install it in a second partition.

We are not aware of remaining bugs...

Although it has been thoroughly tested by us and our group of private beta testers, you might still find bugs in it, and if you do find one, feel free to contact us on Twitter @MLforAll & @IsiahJohnson15 or simply email me at voolfy@me.com (@MLforAll's mail) or support@osxhackers.net.
Yosemite Install is EXPERIMENTAL. Try this on a secondary partition.
Supplementary Information for Yosemite
Yosemite can be installed on all computer but ONLY Mac Pros WITH AN UPGRADED GRAPHICS CARD can use graphics acceleration as of now!
Requirements for MacPostFactor to work
◆ A Mac with Core 2 Duo or Xeon Processor.
◆ OS X 10.7 or later
◆ 2GB RAM at least
◆ At least 15GB of HDD space (8GB for USB)
◆ Install OS X Yosemite.app 10.10.0 or later in your Application Folder
◆ Read our instructions on MacRumors at least twice
Friendly reminder.
We're not responsible if you screw up your system. Technically, that won't happen as you can always go back to Lion, Mountain Lion or Mavericks
Instructions — Installing directly on this computer
1. Make sure you have Install OS X Yosemite.app in your Application Folder
2. Select "On this computer" on the main MCPF window. Then, choose the partition you want to install Yosemite on.
3. Click install and prompt your password.
4. Click reboot. Your computer should reboot with the OSXHackers logo.
5. Once booted, Click Continue, Agree and choose the only partition showed.
6. Click reboot when you see "Installation succeeded !".
7. Enjoy!
I
nstructions — Installing via USB
1. Make sure you have Install OS X Yosemite.app in your Application Folder
2. Select "On an external drive" on the main MCPF window. Then, choose the disk you want to install the Yosemite installer on.
3. Click install and prompt your password.
4. Click exit. Boot the computer you want to install Yosemite on with 'alt' held and select your USB drive.
5. Once booted, Click Continue, Agree and choose the partition you want to install on.
6. Click reboot when you see "Installation succeeded !".
7. Enjoy!
Bugs (from multiple Mac Models)
Maps app does not view the maps
Launchpad is somewhat delayed and choppy
Video doesn't play in iTunes, Safari, VLC nor DVD Player (best use Quicktime, the HD player of Vuze and Google Chrome)
Notification Center is sometimes a mess.
Only one Screen Resolution available
Some Apps will have artifacts if primary using the Graphics Card.
iMessage/FaceTime note: Most users cannot initially login to iMessage or FaceTime using their Apple ID from their Macs after installing Yosemite as a security precaution. When trying to log in, they receive an iMessage Registration validation code. The solution is to contact Apple support, provide your Mac's serial number, explain that Yosemite was installed using our guide and that iMessage isn't working and provide the validation code. Apple then unblocks the Mac, allowing iMessage and FaceTime login immediately and in the future OS updates. They really don't care.
Support
Feel free to post your questions, concerns, or success stories in this thread. If you can't post us back because your only usable device is bricked, Skype at TMRJIJ, MLforAll, or email us at
Support@OSXHackers.net
. We'll
try
to respond within 3-5 days.
There should be some great support Applications that we will use to help you.
Be sure to thank our awesome developers who have contributed greatly.
Support Documentation (Construction)
Docs for macOS Extractor:
Disabling Animations (Mavericks and Yosemite)
Enabling AirDrop
OS X Software Updates
Recovery Patch
Docs for MacPostFactor:
Graphics Lag
Re-patching
Enabling AirDrop
Disabling Animations (Mavericks and Yosemite)
Downloads/Files for Patching
The macOS Extractor v1.45 for OS X/macOS 10.8 - 10.14 [March 31, 2020]:
Download Link
View Release Notes
MacPostFactor 2.0.1 [July 8, 2016]:
Download Link
Boot.efi support for El Capitan (OS X 10.11) for unsupported Mac hardware with a 32-bit only EFI [by
Pike R. Alpha
]:
Download Link
OS X Hackers are is not affiliated with Apple Inc. Mac OS Ten (X), Mac, iOS, iPhone, iPad, and all other Apple product names are trademarks or registered trademarks of Apple Inc. All other company and product names are trademarks or registered trademarks of their respective companies.
MacPostFactor was made by Wayne Wong (@Wayne_819) and Kelian Dumarais (@MLforAll)

Guide and OSXH site/app designed by Isiah Johnson (@TMRJIJ) and Robby Sharpero and is provided by Johnson Network.

Developers/Contributors:

Liem Mai, Birtha Åbel, Wayne Wong, Kelian Dumarais, Nolen Johnson, Mr. Zarniwoop, Tiamo, Pike R. Alpha, oem, atvusr, Jesse Samluk, Mike Hennessie
​
Terms and Conditions
OS X Hackers Site
Discord
Donate
Successful?

Support us by sharing our guide to others. Let everyone know that their older Macs are not obsolete yet. Thank the developers who helped make this possible. Some Developers also appreciate donations to help make this site/app better.

Other Threads:
More Advanced Guide Below
​
Last edited: