macrumors regular
Original poster
Earbuds & Headphones Finder
The most advanced & efficient Earbuds & Headphones Finder app is available on the AppStore!
Using one of the most advanced BLE scanning engine, this headphone scanner app will help you find all of your lost bluetooth devices.
Find your lost AirPods, earbuds, headphones and headsets zip fast!
All you have to do, is to open the app, let it scan the devices around you and guide you through the steps to find your lost device!
Supporting more than 10,000 devices including:
• Apple AirPods
• Beats Solo³ Wireless, Powerbeats³ Wireless/Pro, BeatsX, Studio³ Wireless, Pro
• Bose AE2, SoundLink, SoundSport, Revolve, Color II
• Jabra Move, Classic, Storm, Extreme2, Mini, Talk, PRO
• Jaybird Freedom 1/2/F5, X3 Sport, Run
• JBL Everest Elite/100, E65BTNC, J46BT, T450BT, E45BT, Reflect Contour/Mini
• Fitbit Charge 2/3, Inspire/HR, Versa, Versa Lite, Flex 2, Ionic, Alta/HR, Blaze
App Store Link: https://itunes.apple.com/app/id1459016046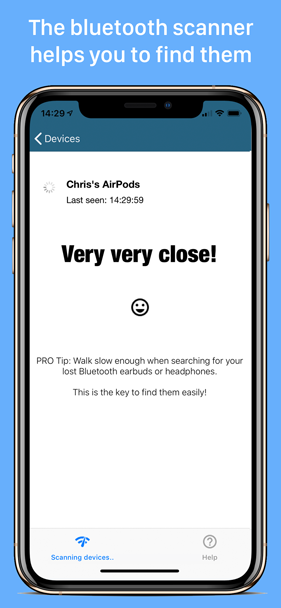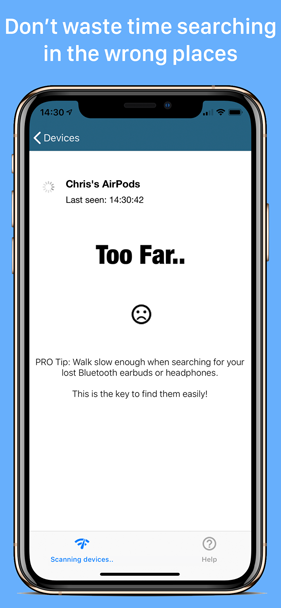 Promo codes for the MacRumors Forum members:

44AN3FWPEYX4
36JXP4ML7TJY
NAL6TYX6PH7W
XX9YHHKWHHJX
RAJKTLXXJLHX
NF9YXXX66J9M
NLWHNKHH6AJK
PMT7EY9AKTT4
YE6A3797AP7E
HHX9EWWWK37W

Last edited: