macrumors member
Original poster
hie there
i would like to know regarding format on my secondary harddrive on my macbook pro.At this moment my main ssd drive is on APFS format & my secondary drive im using 2TB Seagate Firecuda SSHD...should i format the SSHD into APFS too like my main ssd drive or just leave it as it is Mac Os Journaled??
EtreCheck version: 3.4.5 (455)
Report generated 2017-09-22 18:12:32
Download EtreCheck from https://etrecheck.com Runtime: 2:06
Performance: Excellent
Click the
[Lookup]
links for more information from Apple Support Communities. Click the
[Details]
links for more information about that line.
Problem:
No problem - just checking
Hardware Information:
i
MacBook Pro (15-inch, Mid 2012)
[Technical Specifications]
-
[User Guide]
-
[Warranty & Service]
MacBook Pro - model: MacBookPro9,1
1 2.7 GHz Intel Core i7 (i7-3820QM) CPU: 4-core
16 GB RAM Upgradeable -
[Instructions]
BANK 0/DIMM0
8 GB DDR3 2133 MHz ok
BANK 1/DIMM0
8 GB DDR3 2133 MHz ok
Handoff/Airdrop2: supported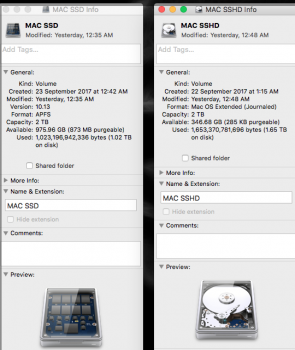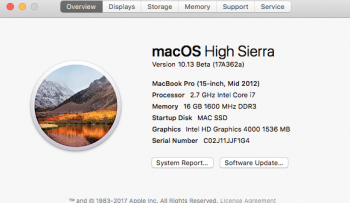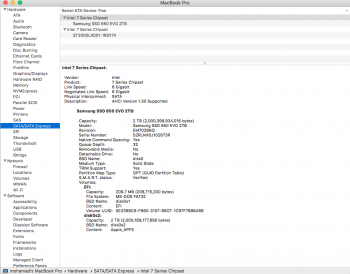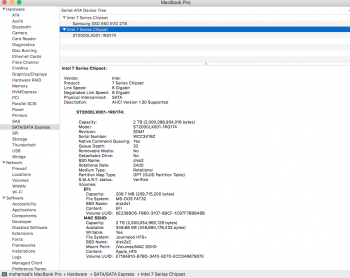 Wireless: en1: 802.11 a/b/g/n
Battery: Health = Normal - Cycle count = 604 iCloud Quota: 1.76 GB available
Video Information:
i
Intel HD Graphics 4000 - VRAM: 1536 MB
Color LCD 1680 x 1050
NVIDIA GeForce GT 650M - VRAM: 1 GB
Disk Information:
i
Samsung SSD 850 EVO 2TB disk1: (2 TB) (Solid State - TRIM: Yes)
[Show SMART report]
EFI (disk1s1 - MS-DOS FAT32) <not mounted> [EFI]: 210 MB (disk1s2) <not mounted> [APFS Container]: 2.00 TB
ST2000LX001-1RG174 disk0: (2 TB) (Rotational)
[Show SMART report]
EFI (disk0s1 - MS-DOS FAT32) <not mounted> [EFI]: 210 MB
MAC SSHD (disk0s2 - Journaled HFS+) /Volumes/MAC SSHD : 2.00 TB (398.19 GB free)
Virtual disks:
i
MAC SSD (disk2s1 - APFS) / [Startup]: 2.00 TB (937.51 GB free)
Physical disk: disk1s2 2.00 TB (937.51 GB free)
(disk2s2) <not mounted> [Preboot]: 2.00 TB
Physical disk: disk1s2 2.00 TB
(disk2s3) <not mounted> [Recovery]: 2.00 TB
Physical disk: disk1s2 2.00 TB (disk2s4) /private/var/vm [VM]: 2.00 TB
Physical disk: disk1s2 2.00 TB