macrumors 6502
Original poster
*****Update*****
*****Information is out of date! Shadow was bought by another company who raised the price. It still seems to be a good service, but just know that it will cost more money and the hardware may be different.*****
For those who don't know, Shadow is a cloud gaming service. What you get is an app you install, and it opens up a streamlined virtual machine on a server somewhere. That VM is Windows 10, and allows you to go full screen and stream that operating system as if it were your computer, on your screen. While cloud gaming is not new, it is new enough where I think we can start a discussion and help each other get shadow going on our Macs.
*I do not have any affiliation with Shadow or Blade apart from paying a monthly service fee for their service. Also, no affiliation with Nvidia, except receiving their service for free while in Beta.
Personally, it has impacted my life greatly. While I was a student, I used a windows 10 gaming rig with a ton of money invested into it. I wanted to get into Macs, but I just didn't want to give up gaming. I discovered Shadow through (link -->)
Linus Tech Tips
on Youtube.com.
Shadows website is (link -->)
HERE.
GeForce Now is (link -->) HERE.
After discovering Shadow, I tried it on my gaming rig for a couple months. In that time I experienced better gameplay, better performance, and an overall faster "machine" than what I already owned and paid tons of money into. Fast forward to now, and I run Shadow on my late 2008 MacBook. Basically, I am gaming on my $50 laptop as if it were a $3000 gaming rig. I even set my desk up nice with a vertical dock and LED's to still have the gaming effect.
Shadow offers a Virtual Machine, meaning you get to log into a Windows 10 desktop, and from there you can install you game launchers (Steam, Epic...) and install the games you want to play.
There is a storage limitation of 250 GB, so you can only install a few large games > See known issues below.
Known issues;
Display resolution works best at standard resolutions like 1920x1080. I had one machine that kept freezing until I changed all resolutions (Windows 10 and game) to the same 1920x1080. Now that I am using an old MacBook, 720 works best so Windows is set for 1440x900 and game is set for 1280x800. This also reduces bandwtih usage, so it's a win win to me. I could imagine others that would have an issue with this. I am guessing on a newer Mac, this problem wouldn't exist.
Storage here in the US is limited to 250GB, but they are offering plans with extended storage in Europe now, so I am guessing they will eventually offer it to us. I really only play 4 or 5 games, so I can just install and remove them as needed. On Shadow, it's a really fast process as they use top of the line hardware, so again, to me this is not an issue.
Possible server issues, and this is one reason I want to start this thread. On occasion, I can't login to Shadow and if I forget about it, the next day I can. This leads me to believe there is a down server. I'm not really sure!?
LATENCY. While this is almost a non issue, at time, I will notice some latency. The only way to reduce this is by allowing shadow a lot of bandwidth in settings as well as a good internet connection, however, they claim that this only needs 25mbps. Playing games like Ghost Recon Wildlands and Breakpoint both play well under this, even in their fast-paced PVP. Below is a screenshot from (link -->)
speedtest.net
which was taken from Windows 10 off of the Shadow server. These are some decent connection speeds, about 5 times faster than mine. This may contribute to the smooth and responsive gameplay.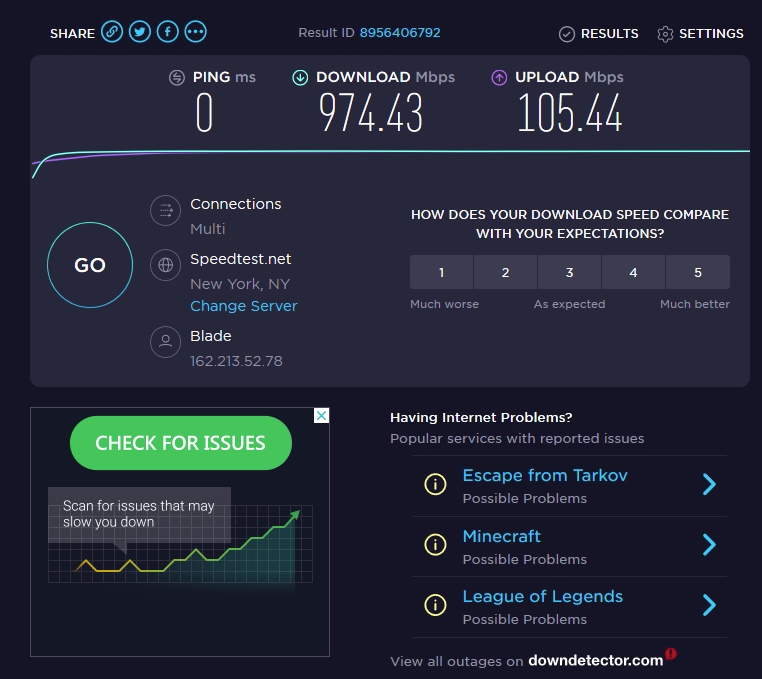 The cost! $25 a month is a bit steep, but I think it's worth it considering thats only $300 a year, so that's still cheaper than if you were to build a PC to the spec they offer you. We still don't know what GeForce Now will cost, as it's still in Beta. From what I can tell though, it should be much cheaper.
To build a gaming computer yourself from (link -->)
PCPartPicker.com
, this could show you how much you will spend to get a computer of similar performance as to what Shadow can offer.
***Edited here, removed a screen shot from PC Part Picker. Someone stated that the build I came up with, that was similar to the specs offered by Shadow, was inaccurate. I left the link for the readers to try themselves, if they aren't already familiar with what's available, compatible, and valued. They can come up with their own conclusions based on what they find.***
Shadow Tech Specs as per my machine;
Xeon Processor @ 2.5 GHZ 4 cores or 8 threads.
12 GB DDR4 RAM @ 2400 MHZ
250 GB storage, Speed comparable to SSD.
Quadro P5000 GPU, Shadow claims this is equivalent to a GTX 1080.
***Edit! Per their US website;
Your subscription includes the following hardware specifications:
Graphics card: NVIDIA GeForce GTX 1080 or NVIDIA Quadro P5000
Processor: XEON 8 dedicated threads
Memory: 12GB / DDR4
Storage: 256GB dedicated
Connection: 1Gb/s
As you can see, Shadow would cost much less than a gaming rig and offer pretty good performance. It offered me a chance to finally get into the Mac ecosystem after owning an iPhone, and simplified much of what I do. In the future, they will be offering 3 tiers of performance, for now we get just the one. If you use shadow, please add your comments or offer some input. If this interests you, please check it out.
My Shadow experience below;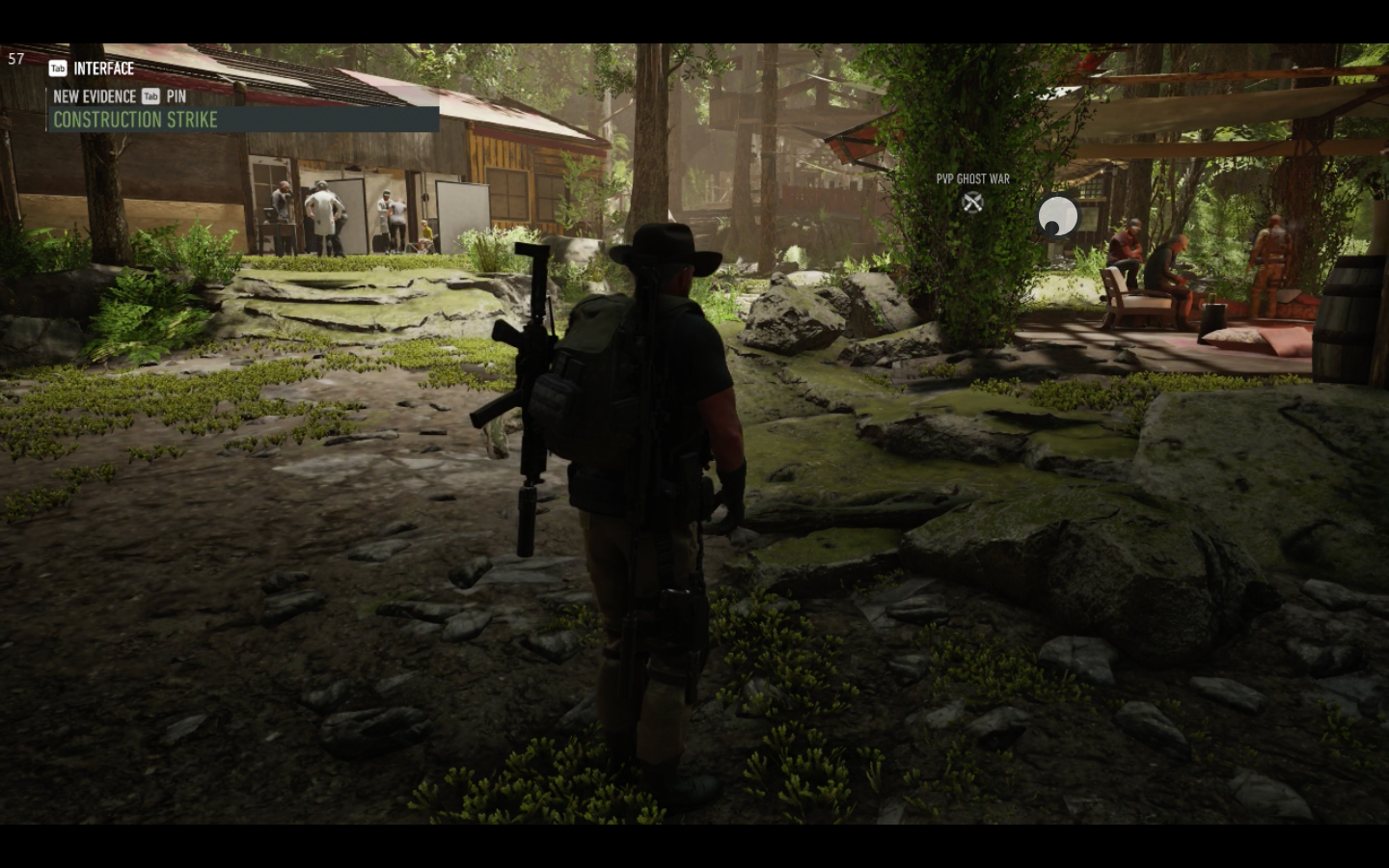 Massive Edit****
Shadow has just been updated and this most recent update freezes in - game while connected to an external display. It's not every game, and it is fine on the laptops native display. I am guessing those with newer machines running everything at the typical resolutions will not be effected.
It works fine on my Mac Mini with an ultra wide 1080p display. However, and this is a big one, I run both Shadow and games in 1920x1080 to avoid random freezes.
I also wanted to post recent Geekbench 4 results from their trial software. The below screenshots show an incredible gain in performance from the old Macbook to the Shadow PC. If you could, post your results also so everyone can get a good idea of where thier machines stand against Shadow.
Shadow Machine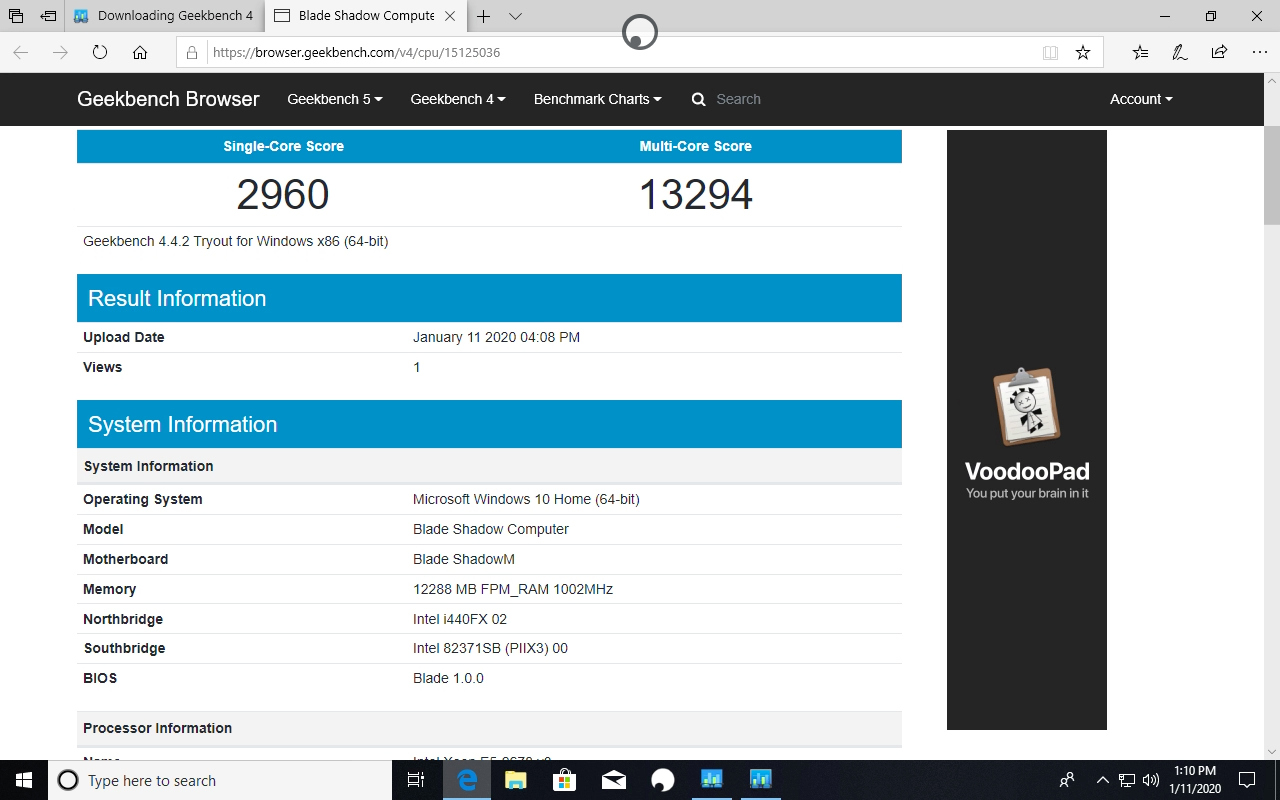 Old MacBook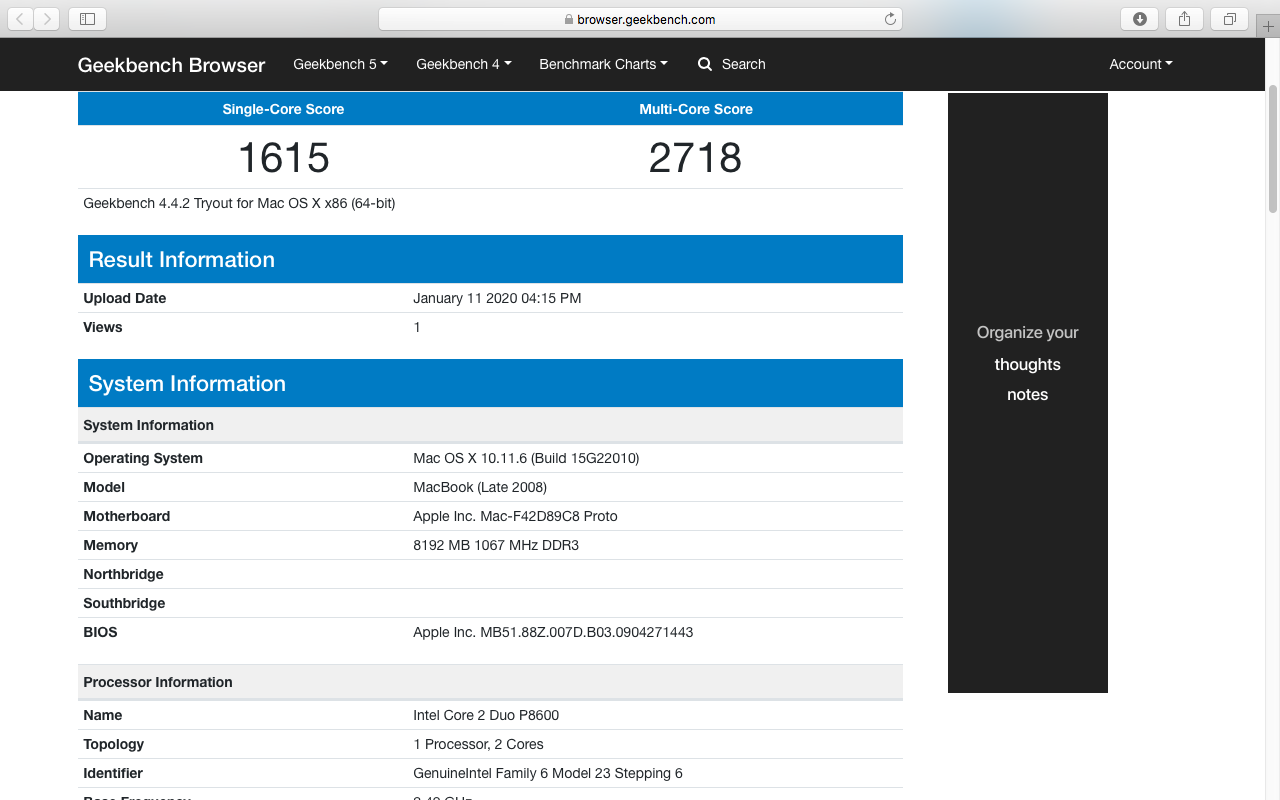 Mac mini
Added 1/27
As a side note on the above screen shot of my actual Shadow Userbenchmark test, the processor was only being partially utilized due to the virtualization. However, it still received a respectful score for gaming, and if we were to test the processor as a whole we would have a better result. Unfortunately this is impossible because of how Shadow works, and Userbenchmark knows what the CPU is, but it is unable to test the entire CPU, and can only test the portion that is allocated for your Shadow machine.
***Edit
So... Recently approved for the GeForce Now Beta. Looks to be some good competition for Shadow. Before I begin though, I want to get it right out there and let you know that Shadow gives you a full Windows 10 desktop, meaning you have access to a pretty decent Windows 10 PC. GeForce now offers some decent specs, more games than I expected, and an overall more reliable experience. What you lose out on though, is customization.
I discussed Shadows Specs above, lets get GeForce Now out there and see what they offer for specs;
Intel Xeon E5-2697 2.3GHZ, 4 cores or 8 threads.
15GB DDR3 RAM
Tesla P40 GPU with 24GB VRAM
It looks like they will also offer another tier capable of Ray Tracing via the GPU.
I can't find storage, but so far I have installed 2 more games than Shadow and the installs were just a tad quicker than Shadow. I was up and running in about 10 minutes from setup to clicking "quickmatch". Some sources suggest there is no cap on storage as it installs the game you want to play on demand. With Shadow, you are given a dedicated portion of a server and a small amount of storage. If you want to play something that you have not downloaded, you would have to uninstall something else first. This is a quick process, but an extra step.
Initially, reliability seemed great, but getting into it I had trouble connecting. This was probably on the game end, and not Nvidias.
Input lag with either service is not noticeable on my high speed cable internet, but Shadow does offer an option to limit how much of your bandwidth you want to use for the game, allowing some to be left for your wife or girlfriends tablet.
Both services have great picture quality and sound, but I am unable to utilize my ultra wide monitor consistently with either service. I just have to pretend I bought an expensive 1920x1080 monitor, no big, as it's a good screen ratio for gaming. However, each game may be different.
Lets do a comparison of each services hardware next;
First is the processor comparison from
cpu-world.com
.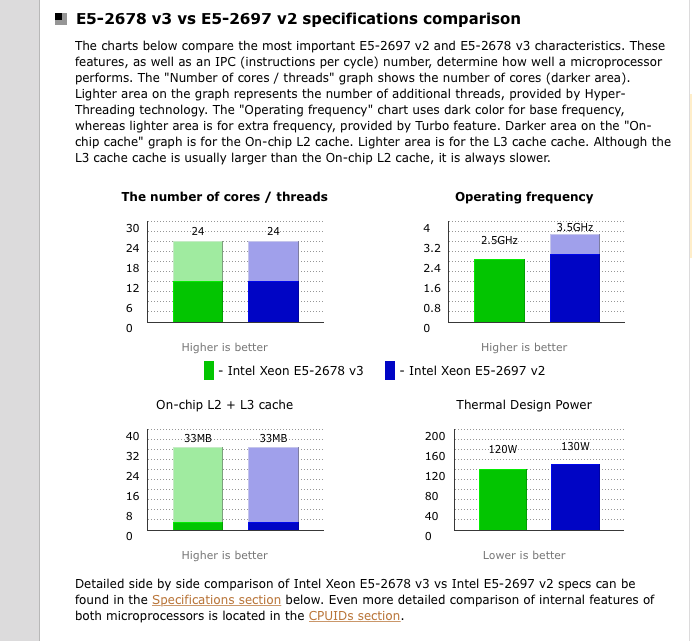 Right off the bat, we see GeForce now running at a higher speed with the 2697 (3.5GHz) than Shadows 2678 (2.5GHz). However, you are getting the same 8 threads of the CPU as you are on Shadow. That's a win, right? Well, no. The Processor is dating back to 2013, so it is running DDR3 RAM while Shadow is using a newer processor allowing for DDR4 at 2400MHz. I am unsure of the speed GeForce is running at, but the highest possible on that chip is 1866MHz. Still, not bad in my opinion.
Shadow offers 12GB of total system memory, while Geforce offers 15GB, from what I can tell.
As for GPU's, both services claim to offer graphics equivalent to a GTX 1080. However, they will both offer upgraded RTX series in the future for an additional cost. Both GPU's feature the Pascal architecture, and both date back to 2016, however, Geforce uses a much more expensive version of that architecture, leading me to believe that it is an overall better card. Shadow offers a 16GB card, which I find difficult to max out, while GeForce offers a 24GB card.
Here is the link to my source for the GPU comparison,
technical-city.com.
The below chart will show GeForce Now GPU specs on the right and Shadow on the left.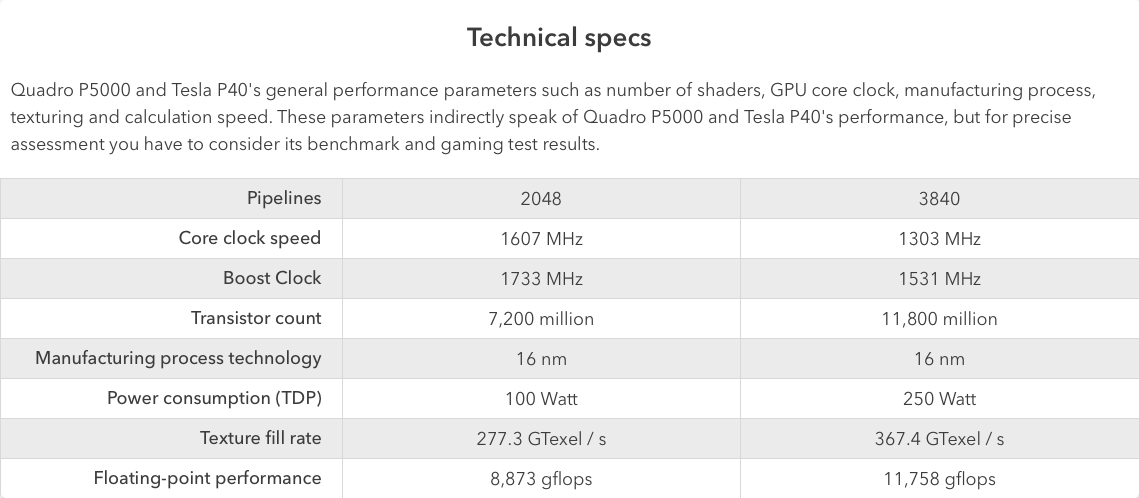 With this comparison concluding, it's really a toss of a coin to which one is better. I personally think that Shadow offers a better overall system with a fair CPU, memory speed, and GPU. But GeForce Now does offer a Better GPU and a higher CPU speed, and in turn less memory speed. Still, the added benefit with Shadow is that you have access to a Windows 10 desktop, meaning no more Bootcamp or Parallels. Granted, Shadow currently only has 250GB's of storage, they will offer more down the road. GeForce Now has a more direct approach and gets you in the game faster.
Both services seem to favor 1920x1080 display resolution
but Shadow will try and force you to use your displays native resolution, which you may have to manually change, or you may freeze the stream.
*****Please see important update;
Update
Last edited: